We at Wealth Management Canada conduct detailed due diligence on managers across the country to find the best wealth managers to recommend. When evaluating managers, we look at the 4P's of manager research: People, Philosophy, Process, and Performance.
One of the managers that we've performed extensive due diligence on is Steadyhand. We thought it would be useful to dive into the details of why we've selected Steadyhand as one of our managers.
Below are questions that we've asked Steadyhand, to which they have replied in detail, that highlight why Steadyhand is one of the managers we've chosen.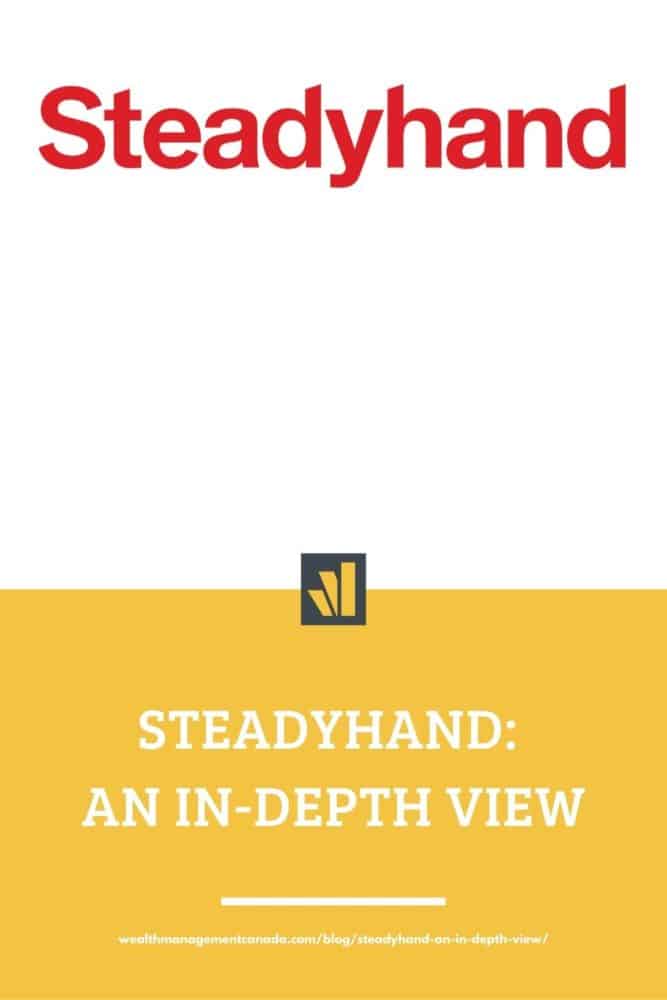 1. You outsource investment management to multiple managers. How did you choose these managers?
Steadyhand has chosen to focus our efforts on helping clients build and maintain appropriate investment portfolios that reflect the goals of each of their accounts. We carefully hire and monitor independent money management firms to manage our funds so that you have the best in the business working for you. This is a big part of our value proposition. You probably haven't heard of our managers, as they're inaccessible to most investors due to their high minimums. Our managers are independent firms structured to allow them to manage money the way they want – and the way that's enabled them to build successful track records. They are not owned by big banks or insurance companies. And importantly, with a substantial portion of their own wealth invested in their portfolios, they eat their own cooking.
2. Have you ever made manager changes? If so, what prompted the change and how did it impact clients?
We have made two changes in our 13 years. In 2016, we replaced the manager of our Small Cap Fund and in 2018, we changed the manager of our Global Equity Fund. We blogged extensively about each change and its impact on our clients. See here for the Small Cap Fund change, and here for the Global Equity Fund change.
3. Where do client funds actually reside? Is there a pool for each asset class?
Steadyhand uses prospectuses pooled funds for our investments. This means that client assets are pooled together in a pooled fund trust. The assets are safekept by the Royal Bank of Canada, Steadyhand's fund custodian. We operate 8 funds, including two fund of funds (Founders Fund and Builders Fund), which own units of our six core asset class funds. Each fund is valued daily and clients can invest or redeem in the funds on any business day.
4. What level of client service and planning is provided to clients with modest assets (under $100K) and how does this compare to what is provided for larger clients with more complex needs?
Investment advice is an integral part of our offering at Steadyhand. Indeed, it's where the name came from. Advice is included as part of our all-in fund fees and we encourage you to take us up on it. We do not differentiate by a client's asset level. If a client needs a more fulsome and comprehensive financial plan that could include estate, insurance and tax planning services, we refer to a trusted group of advice only, independent financial planners who charge a fee for their planning services and do not sell investment or insurance products.
5. What is your perspective on the non-equity portion of client portfolios? Is the focus on longer maturities, which generally offer higher returns and more interest-rate risk, or on shorter maturities?
As you might expect, it depends. Our advice to clients changes as market conditions and client goals shift. The Founders Fund, our conservative balanced fund consisting of 60% stocks and 40% fixed income, is a good proxy for how we advise clients on their asset mix. As at February 2020, our advice is to maintain our bond holdings below target (27% vs 35%) but have been increased to reflect changes in our Income Fund. The manager of the fund, Connor, Clark & Lunn, has allocated more to government bonds than corporate bonds. The former are a better diversifier for stocks and have defensive properties in times of market unrest. On an absolute basis, the risk versus return trade-off in bonds remains unattractive. Real yields (the yield after accounting for inflation) are around zero and even negative in some cases. In the last six months, bond yields have fallen (and bond prices have risen) as investors worry about the fragility of the world economy. Yields may remain at low levels, or fall further if the economy falters, but as long-term investors, we're looking further out and assessing the likelihood that they will normalize over time. Over the next five years, we expect bonds to return between 1-3% per year, which translates to a 5-15% cumulative return. These returns are likely to come with higher volatility than investors have been accustomed to.
6. You have an excellent and very transparent fee calculator on your site. There are discounts based on account size and longevity. Walk us through how the fee discounts would work for a client with, say, a $1 million global equity portfolio.
A client with a global equity portfolio would typically hold our Builders Fund in order to take advantage of one single exposure to our four equity funds. The first $100K invested in the Builders Fund would attract an all-in fee of 1.63%. This fee includes sales taxes. There are no other fees.
| | |
| --- | --- |
| Assets Invested With Steadyhand | Discount on One Simple Fee |
| On the first $100,000 | 0% |
| On the next $150,000 (amounts between $100,000 – $250,000) | 20% |
| On the next $250,000 (amounts between $250,000 – $500,000 | 30% |
| On the amount above $500,000 | 40% |
| Tenure With Steadyhand | Additional Discount on Your Total Fee |
| --- | --- |
| 0 – 5 Years | 0% |
| 5 – 10 Years | 7% |
| 10+ Years | 7% (for a total of 14%) |
Fee discounts are calculated based on your total consolidated household assets in accounts held directly with Steadyhand and are applied to each fund in which you own units.
Further investments and/or a clients' 5th anniversary would start to reduce the fee. At $1 million, the clients' fee for the Builders Fund would be 1.13% or $11,328. On the 5th anniversary, the fee would be lowered by 7% to 1.05% ($10,536) and on the 10th anniversary, the fee would be lowered an additional 7% to 0.97% ($9,743).
7. Talk about the client onboarding process – what should a new client expect?
First off, Steadyhand does not have sales targets and no one at the firm is compensated for client acquisition. We are a team of investment professionals whose purpose is to help our clients achieve their saving and investing goals. There is no sales culture or pressure at Steadyhand. Our low minimum is designed to allow more Canadians to have a professional investment experience and increase the odds of achieving their goals. The first step we take is to explore your personal financial situation and objectives. Our Investor Specialists do this either in person at our offices in Vancouver and Toronto, or over the phone. (We also periodically visit Victoria, Calgary, Edmonton, Winnipeg and Ottawa to meet with investors). We aim to get a good grasp of your unique circumstances by asking about things such as your occupation, financial goals, tolerance for risk, debt, pension plan (if applicable), and investing history, among others.
After we get to know you – and you get to know us – we move on to building a custom portfolio. We provide ample opportunity to learn the basics of investing. We want our clients to be fully confident and comfortable in their investment strategy. We use some tools on our website as well as third party tools to help clients understand and navigate the investment landscape. Our Volatility Meter is a good example.
Next, we'll recommend a Strategic Asset Mix (SAM) for you. This is simply a long-term mix of stocks and bonds that we feel will provide you with the best opportunity to meet your objectives. Next, we'll suggest a mix of our funds to get you to your SAM. Our fund lineup is intentionally simple, which enables us to construct an easy to understand, purpose-built portfolio for all situations.
Once your portfolio is set up, the market will do its thing. And we'll do ours. We're here to provide a steady hand through our ongoing communications and reporting, which includes our:
Monthly email newsletter — the best way to stay abreast of our latest thinking and advice;
Blog — which you can subscribe to for our more frequent views and opinions on all things investing;
Quarterly Report — walks through everything you need to know about our funds' holdings and performance;
Annual client presentation — coined Where to From Here?, where we discuss the prevailing investment climate and our current advice to clients;
Client statements — the clearest in the business and the foundation for all portfolio reviews.
On this last note, we encourage clients to review their portfolio once a year with one of our Investor Specialists. As part of our low-fee model, we leave it in your court to get in touch with us. We're always only a phone call away (or a cup of coffee in Vancouver and Toronto) if you need counsel or a sounding board when the market acts up, or your circumstances change.
8. How do you report to clients?
Steadyhand provides a formal quarterly statement and reports to clients. The statement lays out, in transparent and easily understood terms, a client's portfolio, asset mix, performance and fees in percentage and dollar terms. The report gives an update on the outlook for investing, the funds' positioning and performance, and our current advice to clients. Everything is available online by accessing our secure client portal. Our funds are valued daily so clients can also log in and view their portfolios as of the prior business day.
We pride ourselves on being accessible to clients. We ensure our phones are answered by investment professionals from 10am-8pm EST so clients can get answers to their questions or effect transactions.
These questions and answers were written prior to the global outbreak of COVID-19. In response to the current coronavirus pandemic, Steadyhand has released multiple commentaries detailing its observations and thoughts. To view Steadyhand's latest updates and articles, please click here.
If you'd like to contact Steadyhand directly, please fill in your information below: