With millennials expected to inherit over $750 billion in the next decade1, the financial services industry must understand the mindset and the needs of these next-generation investors if we are to service this growing wealth transfer properly. Read more about millennials, money, and the investment industry in this week's Wealth Management Canada research.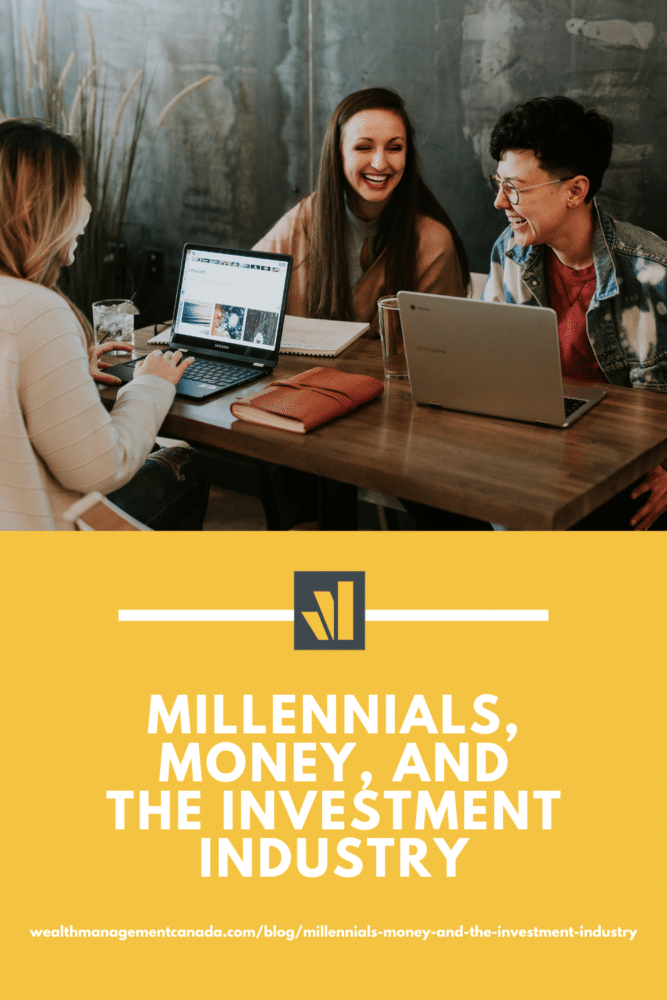 Millennials typically represent those born between 1981 and 1996. They identify income and debt as major barriers to investing. Having experienced recessionary periods such as the 2008 subprime mortgage crisis just as they were starting their careers, it's also assumed that they have an inherent distrust towards the financial industry. However, they are commonly perceived as overconfident and ambitious with their financial goals, including expectations of early retirement.
For the most part, studies have dispelled most of the common stereotypes and revealed this cohort to be a reasonable group of individuals with a growing interest in areas outside of traditional finance.
Millennials and Investing: research and facts
Based on a study conducted by the FINRA Investor Education Foundation and CFA Institute, less than 50% of millennials feel confident in their investment decision-making abilities and expect to retire around 65 or not retire at all.2 Their goals are modest with not living paycheck to paycheck and retirement savings as the top priorities. These financial goals coincide with the non-investing millennials who identify income and debt as barriers. But another detractor that has been overlooked is a lack of knowledge. Both investing and non-investing millennials agree that there is a lot about investing they don't know which further disproves the notion of their overconfidence.2
Having grown up in the digital era, millennials naturally see technology as a basic requirement for financial services. The demand for mobile applications and platforms that incorporate social media are greater among this generation as millennials primarily rely on the internet for investment research and assistance in financial recommendations.3 While robo advisors offer an efficient and cost-effective investment solution, less than 20% of millennials have expressed interest in this service based on the FINRA study. With this said, millennials still perceive human interaction as valuable as they recognize that the algorithms behind robo advice cannot account for the complexities and emotions associated to significant life events.
Around 40% of millennials admit that they don't know the fees charged by financial professionals
But given that millennials can be perceived as distrustful, it's easy to assume that they would be unwilling to work with a wealth manager. However, those who don't use a financial professional cite fees and lack of resources as their main reasons and not distrust. Around 40% of millennials admit that they don't know the fees charged by financial professionals and of those who estimated the fees, 75% believed it to be 5% or more of their investable assets.2 When it comes to building trust, millennials consider investor education and knowing that their interests come first as top factors. Millennials want their advisors to explain what they are doing in their accounts and assure that the transactions are done in their best interests, rather than solely trying to make money for themselves and their firms.2
Millennials and Responsible Investing
Based on the data from the FINRA report, it appears that millennial expectations are not so different from prior generations. However when it comes to making investment decisions, millennials are looking at factors beyond company performance and earnings. The Responsible Investment Association (RIA) noted that millennials are 65% more likely than baby boomers to look at environmental, social, and governance (ESG) factors.4 When evaluating opportunities and risk, they look at a company's corporate behaviour and contributions to society. They are also more likely to express interest in investments that aim to resolve certain social and environmental issues.4
The financial industry has already taken notice of this approach and more asset managers and service providers are becoming signatories to the United Nations-backed Principles of Responsible Investing (UNPRI). And we're proud that our partner companies, Connor, Clark & Lunn Private Capital, Fiera Capital, and Longview Asset Management are signatories. In Canada, companies are expressing their commitment to bringing more women into the boardrooms, while others are involved with the United Nations Social Development Goals which looks at issues such as poverty and gender inequality. Large financial players such as Bloomberg and Goldman Sachs are also increasing their exposures to responsible investing.4
So what does this all mean for financial professionals?
Contrary to popular belief, what millennials want is relatively simple. They are looking for financial educators to fill in the gaps and expand on their current knowledge base. Based on a study done by Accenture, more than 50% of millennials want to learn more about cash flow management, budgeting and planning for specific life goals.3 Digital material and the use of other technologies can supplement one-on-one interactions and help financial professionals build and maintain relationships with millennials to manage this massive wealth transfer over the next couple of decades.
Looking for a wealth manager who will put your interests first? Complete the online questionnaire or send us a message through our contact form.
View our sources for "Millennials, Money and the Investment Industry":