We at Wealth Management Canada conduct detailed due diligence on managers across the country to find the best wealth managers to recommend. When evaluating managers, we look at the 4P's of manager research: People, Philosophy, Process, and Performance. One of the managers that we've performed extensive due diligence on is Goodreid.
We thought it would be useful to dive into the details of why we've selected Goodreid as one of our managers.
Below are questions that we've asked Goodreid, to which they have replied in detail, that highlight why Goodreid is one of the managers we've chosen.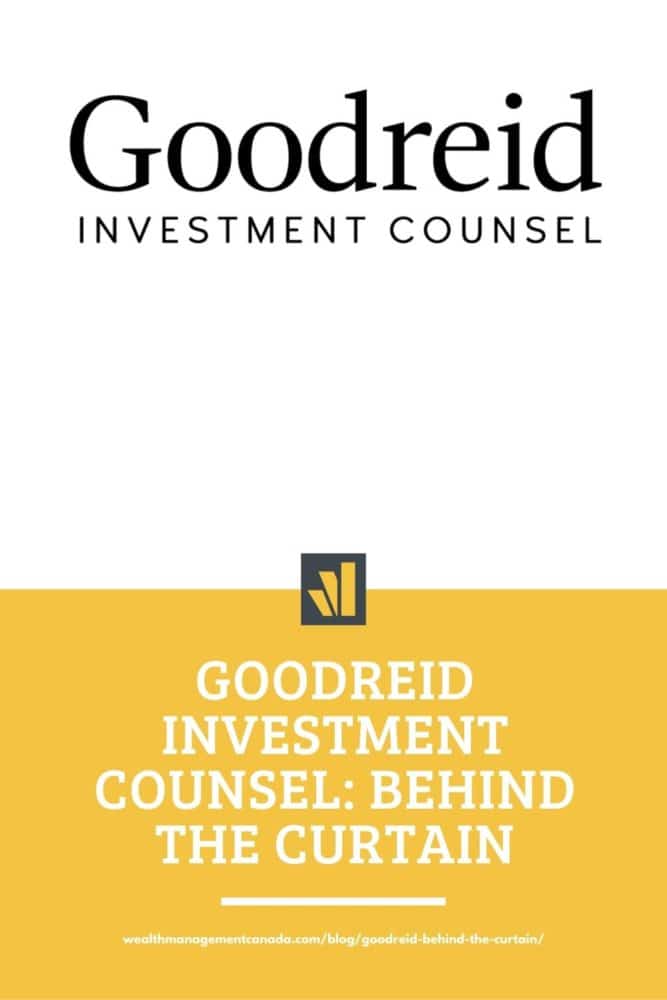 1. How does Goodreid differ from most bank products and mutual funds?
Goodreid is not a pooled fund nor do we sell 'cookie cutter' financial products. Instead, we operate segregated accounts where each client has a unique asset mix made up of some of the world's best companies and quality debt holdings. Goodreid's senior investment decision makers, Gordon Reid and Brian Madden, manage the company's 4 main portfolios across Fixed Income, Canadian Equity, U.S. Large Cap Equities, and U.S. Small Cap Equities. Each client works with a dedicated Portfolio Manager to create a customized portfolio made up of a personalized mix of Goodreid's holdings.
2. How does your performance rank vs. your competitors? What benchmark do you use?
Goodreid's goal is to provide clients with portfolios that achieve long-term growth and outperform their peer benchmark. Goodreid uses a peer manager category average – the Morningstar Canadian Equity Balanced Category Average – as their benchmark for performance. Based on this benchmark, Goodreid ranks amongst the top investment managers in Canada. Goodreid's Portfolio Managers take great pride in their superior long-term performance. Performance is updated quarterly on our website and can be found here: Performance
3. How do you decide what to investment / construct the portfolio?
Investment opportunities are identified using multiple approaches. Some are identified by studying the rate and composition of economic activity and growth. This approach reveals secular long-term trends, short-term cyclical and global macro themes that will favor certain sectors of the economy and companies that may benefit.
Other investment ideas are identified by evaluating and comparing each company's individual characteristics to identify those who are most likely to achieve superior results driven by competitive advantages that are exploited by skillful operational and financial management.
The highest conviction investment candidates are those investment ideas that can be validated against these three analytical frameworks:
Fundamental: Applying traditional industry and company analysis to determine valuation.
Quantitative: Multivariate ranking and screening of publicly listed securities.
Technical: Analysis of price and volume trends
4. Do you outsource or use sub-advisors?
No, Goodreid does not use sub-advisors. Every client's account is managed in-house and follows Goodreid's strategic and disciplined approach to investing.
5. Does Goodreid believe in short or long term investing?
Goodreid has a long holding period for securities on average. Our portfolios are focused, structured, and built with strong conviction. We believe in buying stakes in strong companies, not in renting and flipping stocks. Our disciplined approach to investing ensures that qualitative and quantitative analysis is completed when both buying and selling. Goodreid believes that sell-side discipline is the most important aspect of investing to control, as it requires objectivity and an unemotional mindset.
6. Where are Goodreid's clients located?
While our office is located in Toronto, we have clients spread across Canada and the United States. During regular business operations, our managers routinely visit clients from coast to coast. Due to travel restrictions, our managers also employ video conferencing, telephone, and email to stay in contact with clients.
7. How often will clients hear from you?
Goodreid's clients receive regular communication from their dedicated Portfolio Manager. Portfolio Managers and clients have frequent contact, while clients also have access to our senior investment decision makers. In addition to transaction reporting provided by Custodians, Goodreid produces performance reporting to every client on a quarterly basis. The distinction is that custodial statements provide information on what has occurred in the account and the performance report tells clients how their investments have performed.
8. Where do client funds reside?
Goodreid works with four custodians for the majority of their clients. Fidelity Clearing Canada, Scotia iTrade, National Bank Independent Network (NBIN), and Interactive Brokers Canada provide fiduciary services that allow assets to be housed in a secure and transparent environment. If a client has an existing arrangement with another custodian, Goodreid is happy to accommodate and work with them. At no time will Goodreid take possession of cash or securities.
9. Is Goodreid a discretionary investment manager?
Yes, Goodreid is a discretionary investment manager with the ability to make changes in client accounts on a discretionary basis (ie. without consultation with clients on a trade-by-trade basis). This authority is provided by an Investment Management Agreement (MAF) signed by each client at the time the accounts are opened and the licencing to act as a discretionary manager provided by Provincial Regulators. The MAF outlines the duties and responsibilities of Goodreid and the obligations and authorizations of the client.
10. Why do you have a minimum investment requirement?
At Goodreid, we work with our clients to develop a personalized strategy to achieve their investment goals. Our active-management approach is one where accounts are managed individually through a dedicated Portfolio Manager. Investments are allocated to a wide range of securities as part of our disciplined and strategic approach to investing.
In order to stay true to this approach, Goodreid requires a minimum investment of $500,000.
11. What are Goodreid's typical clients looking for in an investment service?
Goodreid's clients are not looking for an average investment service. Instead, they are seeking a long-term investment manager to partner with to help grow and preserve their wealth. Goodreid has low asset turnover, enjoys lasting relationships with clients, and has the privilege of managing wealth for many multi-generational families.
12. Is there anything that potential clients can read to learn more about Goodreid's investment approach and market outlook?
Goodreid provides market insights and investor resources to both clients and the investing public on a regular basis. Resources including the Goodreid Gauge, our quarterly market commentary, Goodreid eArticles, as well as video content and our blog can be accessed by signing up for the MyGoodreid Insights section of our website.
Goodreid's Gordon Reid and Brian Madden both make a regular monthly appearance on BNN Bloomberg's Market Call, Canada's leading stock market call-in program. See Insights Here
If you'd like to contact Goodreid directly, please fill in your information below: